Summer! Less work and more play. At least we hope thats your warm day pleasure. But if weekends is all you get then you certainly need a beverage to celebrate with. After listening to requests for something thats a little sweet but still tropical, we created Tiki Italiano. Now your dry vermouth isn't just for martinis and perfect Manahttans. We don't recommend the standard Rossi vermouth in this libation. Try something with wonderful herbal qualities, maybe even a small batch locally made dry vermouth. And, Campari is one of our favorite mixers in recent months. The Italian liqueur that is not just pretty but medicinally beneficial before and after meals.
Are you familiar with the art of Tiki Tony? You should be. Tony creates a rich line of art in various mediums that all showcase his unique take on the relaxing lifestyle of a beachcomber who moonlights as a surfer. Tikis, birds, fish and lovely Wahines appear on canvas, carvings, shoes, apparel, ceramics and even the occasional tattoo. On this episode of the podcast we discussed applying art such as Tony's directly to your body in the form of a tattoo. Be sure to use the link and reach out to the artist if you have such interest. TikiTony.com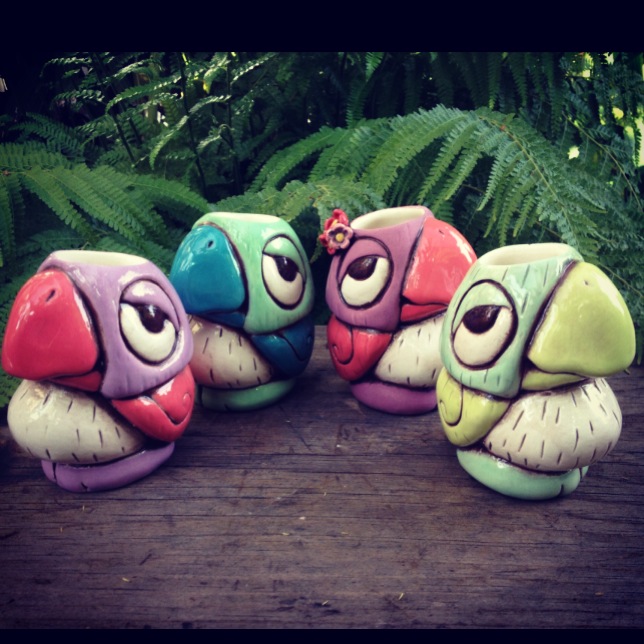 The Tikinauts! We are very pleased to share new music by the Tikinauts on our show. Sunshine is a rather huge fan of surf rock and enjoying the genre poolside or beachside with his feet in the water. The Tikinauts bring you classic surf style with some twists and keep the beat moving quickly. Pete, Drew and Jeff are experienced musicians who have all played in several bands and have the musical skill to pay true tribute to classic 60's nostalgic tunes that everyone will recognize and enjoy. LIKE them on facebook and get their music now.